At Traverse Connect we know that keeping teams aligned is top of mind for businesses right now as we all take steps to adapt our working arrangements to slow the spread of COVID-19. For many teams making the shift to remote work (including our own), it's more important than ever to stay coordinated and connected.
Our team uses Asana for project management and team collaboration. It's a fantastic tool for keeping everyone in the loop on who's working on what and distributing the workload. We also love the transparency and accountability it affords us. If your team uses Asana check out their 5 Tips to Enable Working from Anywhere which starts out with a founding principle – trust each other to get your work done.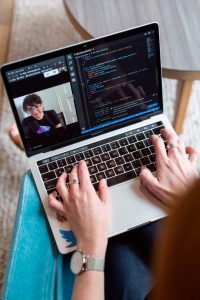 We're big fans of Slack, an internal communication tool, which cuts down on spending time in your inbox and creates a quick and easy way to communicate with your teammates. We're using Slack which also offers a video conferencing service which is great for all-hands or team meetings. Read Slack's Guide to Working Remotely.
There are a ton of video-conferencing options out there – Zoom, Google Hangouts, Skype. Many of these platforms are offering companies complimentary upgrades to more robust features to help make the transition to remote work easier.
Companies are happily sharing their procedures and plans for transitioning to remote work and providing recommendations and resources to support companies and their employees as they do their best to mitigate the spread of the virus.
If you'd like to read up on best practices for working remotely here's a comprehensive reading list from the We Work Remotely team, including this article on Why Remote Workers Are Outperforming Office Workers!