THE CREATIVE COAST. REIMAGINING THE GRAND TRAVERSE REGION'S CREATIVE & CULTURAL ECONOMY.
Creative Coast is an initiative by Traverse Connect to enhance the Grand Traverse Region's creative economy.
Our region possesses a well-developed creative industry and arts sector, while Traverse City is ranked fourth in the list of Top 10 Most Arts-Vibrant Medium Communities in the 2018 Arts Vibrancy Index report by the National Center for Arts Research. Traverse Connect wants to build on this advantage by leading the charge to enhance the creative economy in the Grand Traverse Region – attracting creative and innovative business, highlighting existing creative and entrepreneurial culture, and attracting and retaining creative and cultural talent. 
Creative Coast Podcast Series - Out Now!
The Creative Coast podcast series is now available for listening here on our website, and on Apple Podcasts, Spotify, Stitcher, and wherever else you get your podcasts. Just type 'Creative Coast'.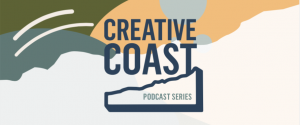 Highlights
Podcast Series
Traverse Connect is producing a 12-part Creative Coast podcast series in partnership with podcasting production company Airloom Media. Each episode features stories from individuals working in creative sectors in the Grand Traverse Region. Release Date coming Summer 2020! 
Listen Now!
Creative Coast Scholarships for Leadership Grand Traverse
Traverse Connect is offering a scholarship for up to five creative professionals to participate in the 2020/21 Leadership Grand Traverse cohort, covering 90% of tuition fees ($1,800 of $2,000). Offered once each year, Leadership Grand Traverse (LGT) is a community-based program that prepares participants for decision-making leadership roles in areas such as policy, program implementation, and development.
Apply for a Creative Coast Scholarship
Creative Coast Guide
Traverse Connect, in partnership with The Boardman Review, is powering the production of a Creative Coast Guide intended to highlight the wealth of creative professionals growing their enterprises in the Grand Traverse region. The publication will be released in the Fall of 2020.
Get Updates
Creative Coast Website - Coming Soon
The Creative Coast website will highlight the impressive lifestyle and career opportunities in the area, specifically in the tech ecosystem, traded industries, and creative sectors, as well as the region's cultural and artistic vibrancy. Did you return or move to the Grand Traverse Region in the past three years? Interested in sharing your business' success story with other entrepreneurs? 
Learn more
Support for Creative Coast
'Creative Coast' is a Traverse Connect Creative Chambers program generously funded by the Michigan Film & Digital Media Office, an office of the Michigan Economic Development Corporation. The Michigan Film and Digital Media Office's Creative Chambers Initiative is a talent attraction and retention initiative that bolsters economic development and the creative industries by engaging the local business and creative community. Traverse Connect would like to thank the Michigan Film and Digital Media Office for supporting our efforts and programming to enhance our region's creative and cultural vibrancy.