In accordance with Governor Whitmer's Executive Order 2020-91, businesses are required to create a "COVID-19 preparedness and response plan" in order to help their employees return to work safely. With businesses in Michigan slowly reopening, we at Traverse Connect intend to lead by example on how to reopen safely.
In an effort to combat the spread of COVID-19, the Traverse Connect building will remain closed to the public. Traverse Connect employees are encouraged to work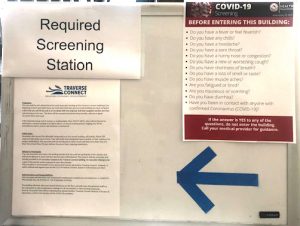 remotely from the safety of their homes during the pandemic. Only those who are critical infrastructure workers are permitted to use the building. While using the building, the employees are encouraged to use social distancing practices, including the discouragement of group gatherings. Traverse Connect has implemented a staggered employee schedule, including flexible work hours, as well as keeping all work stations at least six feet apart from one another. High traffic areas, such as the lunch room, are only allowed to be used by one individual at a time. All non-essential travel has been cancelled.
The initial entry for all employees and building tenants will require mandatory daily screening. All employees will enter the key-access side door of the building and proceed to the lobby screening area. At the screening area, masks, gloves, and sanitizing wipes are offered. Each employee has been given number to use on their screening forms, in place of their names to maintain HIPAA compliance. The screening form will require employees and tenants to list any symptoms they may be having, as well as record their temperature daily via a forehead thermometer. Each person will place their screening form into a peel and seal envelope to be placed into a box. All screening forms will be reviewed by building administration. The thermometer, all pens, and anything else touched will be sanitized with a disinfecting wipe.
Movement within the building will be mandated by blue directional arrows placed
six feet apart to maintain social distancing practices. All movement in, out, and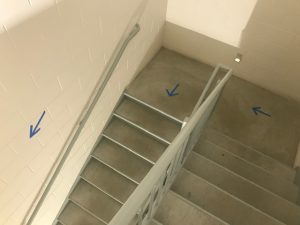 around the building will be in one direction as depicted by the blue arrows. After
initial screening, all employees are to use the elevator, one person at a time, to go upstairs. Unless, an individual needs the elevator, all exiting from the building will take place down a separate stairwell on the opposite side from the entrance. Elevator usage with both entry and exit will be limited to those with disabilities, in order to remain ADA complaint.
Cleaning and sanitizing will be the responsibility of all employees and tenants. Cleaning and sanitizing products will be readily available in the screening area, as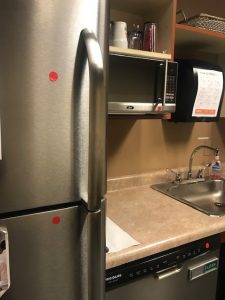 well as around the office, and each employees desk. All high-touch areas that need consistent sanitization will be marked with red dots. Furthermore, building administration will also assist in sanitizing all areas, including high-touch areas. Employees will also be given red dots for their own desk to maintain sanitization of high-touch areas. Each employee will maintain a personal waste bin for them to collect and dispose of each day outside at the building's outside collection bin. Building administration will maintain community trash and disposal.
These practices have been put in place to keep our employees, tenants, and community safe from the spread of COVID-19. The Michigan Chamber has more information on creating your business'  COVID-19 preparedness and response plan.