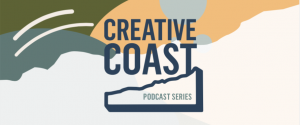 This 12-part series explores the stories of creative entrepreneurs who have made Traverse City their home and who have brought with them exciting new ideas, interests, inspirations, and innovations.
Traverse City, Michigan, is no ordinary town. It's an artsy haven tucked inside the outset pinky of Michigan's famous waving hand, right on two gleaming Lake Michigan bays. In the last decade or so it has become a magnet for creative talent from all over the world. The natural beauty of all four seasons and the Great Lakes, the vibrant restaurant and arts scene, the forty different wineries and twelve craft breweries have lured many young artists and visionaries from big cities to set up shop in this place they call home. 
The Creative Coast podcast series is now available for listening on Apple Podcasts, Spotify, Google Podcasts, Stitcher, and wherever else you get your podcasts. Just type 'Creative Coast'.
Creative Coast is produced by podcasting company Airloom Media in partnership with Traverse Connect.

Episode 1: A Theatre Under the Stars
The story of two friends who dreamed of bringing the kind of world-class theater usually found in big cities to a town of only 15,000 people. This episode features Erin Anderson-Whiting & Kit McKay, Co-Founders of Parallel 45 Theatre.
Episode 2: Suddenly the Boss
How a last-minute detour to Traverse City changed the course of Fernando Meza's life. This episode features Fernando Meza, CEO of Oneupweb.

Support for Creative Coast
This podcast series is made possible thanks to generous support and funding from the Michigan Film and Digital Media Office.
'Creative Coast' is a Traverse Connect Creative Chambers program generously funded by the Michigan Film & Digital Media Office, an office of the Michigan Economic Development Corporation. The Michigan Film and Digital Media Office's Creative Chambers Initiative is a talent attraction and retention initiative that bolsters economic development and the creative industries by engaging the local business and creative community. Traverse Connect would like to thank the Michigan Film and Digital Media Office for supporting our efforts and programming to enhance our region's creative and cultural vibrancy.

Learn more about the Michigan Film & Digital Media Office