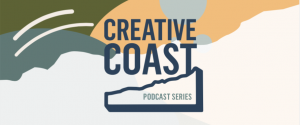 This 12-part series explores the stories of creative entrepreneurs who have made Traverse City their home and who have brought with them exciting new ideas, interests, inspirations, and innovations.
Traverse City, Michigan, is no ordinary town. It's an artsy haven tucked inside the outset pinky of Michigan's famous waving hand, right on two gleaming Lake Michigan bays. In the last decade or so it has become a magnet for creative talent from all over the world. The natural beauty of all four seasons and the Great Lakes, the vibrant restaurant and arts scene, the forty different wineries and twelve craft breweries have lured many young artists and visionaries from big cities to set up shop in this place they call home. 
The Creative Coast podcast series is now available for listening on Apple Podcasts, Spotify, Google Podcasts, Stitcher, and wherever else you get your podcasts. Just type 'Creative Coast'.
Creative Coast is produced by podcasting company Airloom Media in partnership with Traverse Connect.

Episode 1 | A Theatre Under the Stars
The story of two friends who dreamed of bringing the kind of world-class theater usually found in big cities to a town of only 15,000 people. This episode features Erin Anderson-Whiting & Kit McKay, Co-Founders of Parallel 45 Theatre.
Episode 2 | Suddenly the Boss
How a last-minute detour to Traverse City changed the course of Fernando Meza's life. This episode features Fernando Meza, CEO of Oneupweb.
Episode 3 | Answering Your Calling
The flight that pushed Heather Spooner to quit her job, launch a new career and open her heart to love. This episode features Heather Spooner, Founder of Ampersand Lettering Lab.
Episode 4 | Silicone Meets Celluloid
A country gal actor meets a city boy cartoonist on a warm November night in Los Angeles. This episode features Stacey Feeley, Co-Founder of sustainable products company GoSili and cartoon animator Jim Feeley.
Episode 5 | Spreading The Word
The couple who became the beating heart of northern Michigan's budding literary community. This episode features writer and National Writers Series (NWS) Co-Founder Doug Stanton and NWS Co-Founder and Executive Director, Anne Stanton.
Episode 6 | Girls Rule the World
Growing up, Katie Horvath wanted to take on the world. Now she's the only female CEO of a big data company. This episode features Katie Horvath, CEO of big data company Naveego.
Episode 7 | Nourishing Your Soul
As one of the three members of the hugely successful band fun., he's won Grammys, played Saturday Night Live, co-wrote a song that went diamond and toured the world. Now he wants to move back home to Northern Michigan. This episode features musician Andrew Dost.
Episode 8 | The Accidental Artist
The physical therapist turned artist whose knowledge of anatomy helps her paint the people and colors of Northern Michigan. This episode features fine artist, Katherine Corden.
Episode 9 | The Elevatorless Pitch
A couple united in a shared passion to build communities through art and farming … and to make people cry for the right reasons. This episode features Amanda & Brad Kik, Co-Founders of Crosshatch Center for Art & Ecology.
Episode 10 | Finding the Way Back
Seeking out creative inspiration in the wake of tragedy. This episode features Megan Kelto, Site Director of Traverse City's Crooked Tree Arts Center.
Episode 11 | The Breakfast Boutique
Meet the fashion designer, maker, and now owner of Traverse City's very first combination retail shop and cereal bar. This episode features Michael Wahlstrom, Founder of clothing company Gitche Gumee.
Episode 12 | The Blueprints for Success
Two partners in love and architecture learn that building a life together often means ditching the plans. This episode features Charlotte and Peter Smith, Co-Founders of Designsmiths

Support for Creative Coast
This podcast series is made possible thanks to generous support and funding from the Michigan Film and Digital Media Office.
'Creative Coast' is a Traverse Connect Creative Chambers program generously funded by the Michigan Film & Digital Media Office, an office of the Michigan Economic Development Corporation. The Michigan Film and Digital Media Office's Creative Chambers Initiative is a talent attraction and retention initiative that bolsters economic development and the creative industries by engaging the local business and creative community. Traverse Connect would like to thank the Michigan Film and Digital Media Office for supporting our efforts and programming to enhance our region's creative and cultural vibrancy.

Learn more about the Michigan Film & Digital Media Office