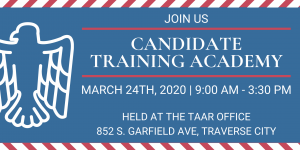 With important local, state and national positions on the ballot this year, the Traverse Area Association of REALTORS® (TAAR) and Traverse Connect are teaming up to offer a one-day, non-partisan training seminar for area residents interested in exploring a run for political office.
The Political Candidate Training event is set for Tuesday, March 24, from 9 a.m. to 3:30 p.m. at the TAAR office at 852 S. Garfield Ave. in Traverse City. The seminar will help participants assess whether they have the necessary traits to run for office and lay out the basic elements to plan and carry out a campaign. Traverse City Clerk, Benjamin Marentette, as well as Grand Traverse County Clerk, Bonnie Scheele, and Deputy Grand Traverse County Clerk, Sam Gedman, will be on hand to educate attendees on how to file for a local election and campaign finance filing and reporting, respectively.
The event is free for all REALTORS® or TAAR Affiliate members, Traverse Connect Investors and their employees, and Traverse City Young Professionals. Participation for all other attendees is $25 per person. Registration is available now.
The seminar is sponsored by the National Association of REALTORS® and REAL Strategies, co-sponsored by TAAR, Traverse Connect, and the Traverse City Young Professionals.  Lunch will be provided for all attendees, thanks to the support of Traverse Repro and Copy Central and support for print materials for the event are provided by Borealis Strategic, LLC.