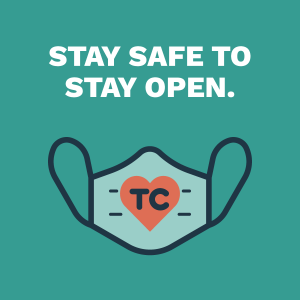 Traverse Connect and other representatives of the Grand Traverse County Joint Operations Center joined together this week to support our restaurants, bars, and retailers as they prepare to reopen this weekend.
We're asking our year-round and seasonal residents to help our businesses Stay Safe to Stay Open and continue to keep our community safe by staying 6 feet apart, wearing masks, using basic prevention methods such as frequent hand washing, staying home if sick, and limiting social gatherings. These steps are vital to keeping our community safe and open for business.
Together, we can be a model for the state and allow economic recovery in our region, without risking the health of our residents or the capacity of our healthcare system.
We'll be providing toolkits to our county businesses so they can display these messages at their entrances, and on their website and social media pages.
In the meantime, help us spread the word on social media by sharing the new Stay Safe to Stay Open graphic with these reminders:
Remember to:
Stay home whenever possible

Wear a mask or face covering

Practice social distancing: stay 6 feet from other people

Wash your hands for at least 20 seconds

Stay home if you're sick

Avoid touching your face