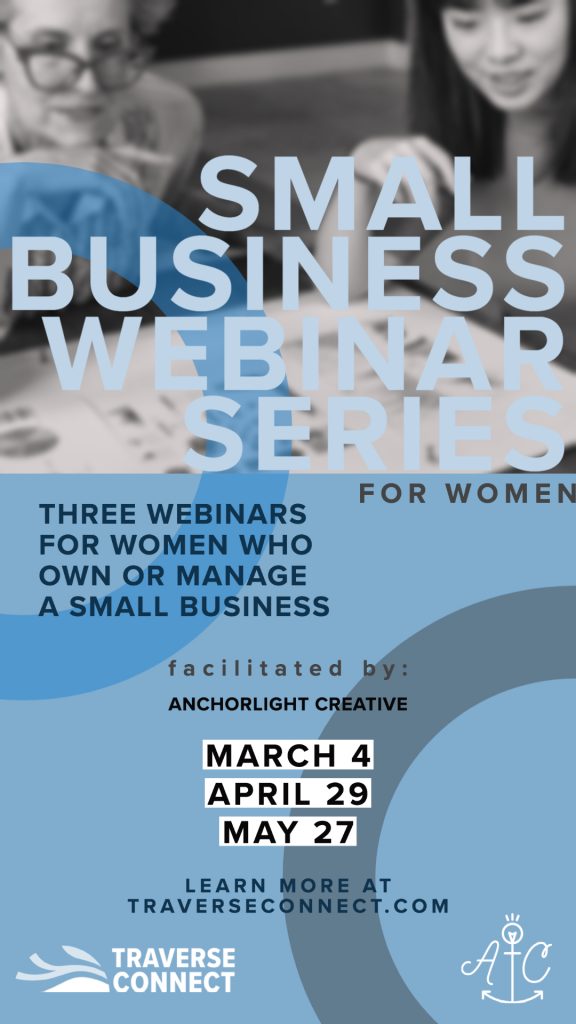 Traverse Connect is partnering with Anchorlight Creative to offer a new three-part Small Business Webinar Series, beginning March 4, 2021. Anchorlight Creative is an agency focused on helping creative entrepreneurial women build beautiful websites with complete branding and marketing packages that highlight who they are, what they do, and what they have to offer.
What is the Small Business Series all about? Running a small business is no easy task, and it comes with a unique set of challenges that the team at Anchorlight knows well. From one-person start-ups to full-scale growing businesses with new employees, small business owners handle it all. Our series focuses on education, empowerment, and actionable tips to help you manage yourself and your team well to ensure you're poised for sustainable growth.
Registration for each of the Small Business Series webinars is $55 for investors and $75 for non-investors. Registration includes a digital workbook delivered to attendees prior to the webinar.
Are you driving the ship or are you letting things play out day-to-day in your business without a clear strategy for success? We identify the main ways that a lack of action and limiting beliefs can derail your business and squander your progress. 
We walk through all the ways that you can turn from passive inaction to assertive productivity in your business and watch it transform for the better through decisive action and confidence. 
Through the course of this one-hour workshop, you'll learn how to build confidence and clarity in your business that translates into motivation, purpose, and intentional action. 
Bring your business to the next level and hire sooner! 
What do you need logistically, financially, and organizationally to get started? When will you know it's the right time? 
Through a personal assessment, you'll discover when hiring is right for you and how to get started checking off all the boxes–saving you time and headache in the future. 
Learn about the ins and outs of making your first hire, what you need to have in place and why onboarding is not a destination, but a journey that makes all the difference. 
One woman startup? Wearing all the hats at all hours of the day? Many small businesses bootstrap their beginnings and do all the work for all the things, solo. 
Learn how your leadership style can impact your business, for better or worse. We'll work through common issues like productivity, overwhelm, and charging your worth. 
Don't consider yourself a CEO…yet? Learn new tools to help you grow your confidence and lead boldly in business so you're ready to scale up in an effective and intentional way sooner, rather than later.