Please join us on Wednesday, May 18 from 11:30 a.m. to 1:00 p.m. at Grand Traverse Resort & Spa as we honor and celebrate the 2021 Distinguished Service Award recipient, Michael A. Ascione.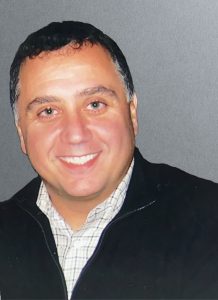 Michael A. Ascione
Michael A. Ascione, the former President and CEO of American Waste, was selected by the Traverse Connect Board of Directors to receive the Distinguished Service Award. The DSA is among the region's oldest and most prestigious civic awards, presented annually since 1929.
Michael Ascione graduated from Kalkaska High School and attended Northwestern Michigan College. Ascione's career began at Northern A-1, founded by his father, Edward Ascione, Sr., just five years after relocating his young family to northern Michigan from the Detroit area. After founding American Waste, Mike served as Co-President with his brother, Edward, Jr., for nearly 20 years. Throughout his career, Mike remained committed to the principle of doing good while doing what was good for business. Mike served the Grand Traverse Region's nonprofit and business communities by holding positions on the boards of Traverse Connect, Kalkaska Area Chamber of Commerce, Kalkaska Downtown Development Authority, Northern Michigan DeColores Ministries, Kalkaska Area Interfaith Resources, The Father Fred Foundation, Traverse Bay Economic Development Corporation, and Northwestern Michigan College Foundation. Mike held committee positions with Big Brothers Big Sisters of Northern Michigan, receiving the "Big Defender" award with his wife Jeanne in 2019. Mike gave much of his time to the Grand Traverse Area Catholic Schools, volunteering as Co-Chair of the most recent capital campaign to build the new Immaculate Conception Elementary School. Michael A. Ascione passed unexpectedly in November 2020.
Michael Ascione will be honored at the Distinguished Service Award Luncheon in May 2022. The award will be presented to his wife Jeanne, and children Marina and Alex, by the 2020 DSA Recipient, Jan Warren.  
About the DSA Award: The award is a 90-year tradition that annually recognizes a local resident for his or her efforts to improve the lives of people living and working in the Grand Traverse area. The DSA honors business leaders, public servants, patrons of area arts, naturalists, and those from a host of other backgrounds who've worked and given tirelessly to improve the region, according to Traverse Connect.
Thank you to our Presenting Sponsor Blue Cross Blue Shied of Michigan and our Supporting Sponsor Munson Healthcare.